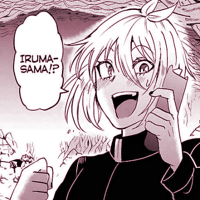 "If your partner has sunk too deep, you can pull them out with their safeword. A strong word which makes one's heart tremble..."

"Iruma!"
"Iruma?"

Asmodeus is one of my favorite characters ever! He's very near and dear to my heart, for a lot of reasons...!

Seeing a character who is so open about his affection is really refreshing and inspiring. He loves Iruma and doesn't care who knows it, and even if he can end up going to goofy extremes sometimes, it all comes from a place of genuine admiration. He doesn't hide his feelings - in fact, he embraces them, and they make him grow as a person. He's Iruma's #1 fan! I love his honesty and passion so much!