Colors TCG Beginner's Guide*
* written by someone who is still pretty new to the game
So you want to join the cool kids and collect little pixel cards, but don't know where to start?? You've come to the right place! (WIP)
★ Table of Contents ★
About The Game
The Cards
Masteries
Creating A Card Post
Levels
Activity Log
Joining
Signatures
Portfolios
Crayons
Art Shop
Art Studio
Trading
Sketchpads
Games
Pot of Gold
Activity Rewards
Donating a Deck
Recycled Art
Tips
Useful Tools
★ About The Game

Colors TCG is an online trading card game where players collect cards featuring characters from anime, manga, and other East Asian media (such as manhua and manhwa). The official website (colors-tcg.eu) has some information about getting started, as well as a list of all of the cards in the game and a few other resources that are important, but most of the game itself takes place on Dreamwidth. The Dreamwidth community (colors-tcg.dreamwidth.org) is made up of weekly games run by the mods, where cards are given out as prizes for participating. There's also a dedicated community for seeking out trades, located at colors-trade.dreamwidth.org. The game began on LiveJournal in 2010 (twelve years ago!!) and is still going strong!

Here are the official rules for the game, and here is the official starter's guide. However, there is a LOT of information there and it can seem overwhelming at first, so I will try to go over things one by one in more detail!
★ The Cards

The most important part of a TCG is the cards, of course, and Colors has no shortage of cards!! There are over 12,000 decks containing 240,000 unique cards in the game. A 'deck' is a full set of 20 cards. Decks are organized in several different ways - by color, by name, and by whether or not the deck is a 'character' deck or a 'special' deck. Character decks make up the majority of decks, and are decks where all 20 cards are of the same character. Special decks are decks where the cards can be of different characters, and in some cases, may even contain characters from multiple series. These are called 'Scrapbook' decks.

Each deck in the game is assigned a color - red, orange, yellow, green, blue, purple, brown, or gray. In the case of special decks, the deck has two colors. Each deck also has a unique name, which is displayed right on the card itself for easy identification. Collecting all 20 cards in a deck will award you mastery of the deck, and you will get a mastery badge to display!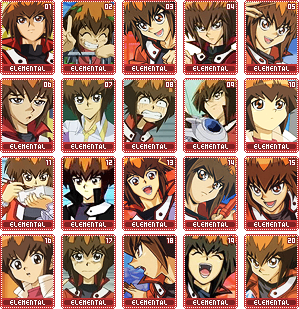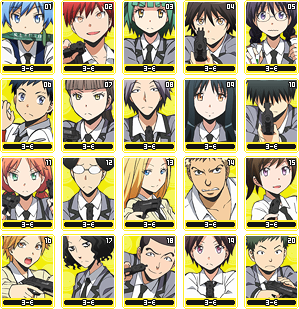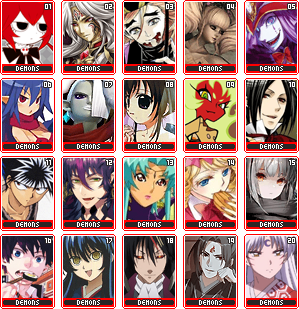 Above, you can see an example of each of the three types of decks. Elemental is a character deck, so every card is the same character - in this case, Jaden Yuki from Yugioh GX. 3-E is a special deck, containing different characters from the same series - in this case, students from Class 3-E from Assassination Classroom. Demons is a Scrapbook deck, so each character is a demon, but they're all from different series. Character decks like elemental are labelled under one color - red in this case - and Special decks are labelled under two colors. 3-E is yellow and gray, and Demons is red and gray.





Collecting all the cards in a deck will get you a mastery badge like the ones above!

All of the decks in the game can be viewed on the official website, and can be viewed by either alphabetical order or by color. Clicking on a deck's page will show you all of the cards, the mastery badge, the color, the character's name and series, and even a list of everyone who has mastered it!

New decks are released monthly. The number of new decks varies, based on how many have been donated by members. That's right, you can donate new decks if eligible characters haven't been added to the game yet - more on that later. New decks are announced in a release post on Dreamwidth like this one where you can grab some of the newly released cards for free.
★ Masteries

TBA
★ Creating A Card Post

Before joining the game, you need to have your card post set up and ready to go. Your card post is a post on Dreamwidth where other players can see your cards and comment to ask for trades. Your cards don't necessarily need to be hosted on the card post itself. For example, my cards are hosted here on NeoCities, but my card post (located here) has a link to my card page, and the comments are open for people to offer trades. There are some helpful templates for Dreamwidth-based card posts located here. A card post needs to contain a few things:

- Your name;
- The number of cards you have;
- Your level (which is based on how many cards you have);
- The cards you're collecting;
- The cards you're trading;
- Your trading/activity log.

If you want to have your cards and logs on NeoCities, that's perfectly fine, but you still need to have a Dreamwidth post for trades. Gloomlee has made a NeoCities-friendly template for card posts that you can find here; I also have some work-in-progress scripts that you can find here. Of course, you can also set up your cards any other way you want - as long as you separate the ones you're keeping/collecting and the ones that are available for trade!
★ Levels

Your player level is based on how many cards you have; you can see the levels list here. When you reach a new level, you comment on that post with your new level and use this generator to receive your level-up rewards. You also need a level banner to display on your profile. You can find a lot of them in this thread here! New players start out at the Red level and work their way up from there.
★ Activity Log

IIt's important that you keep track of all of your incoming and outgoing cards! Whether you're receiving cards from a game, trading with other players, or gifting someone a card, you need to make sure you write it down in your log. This ensures that all the cards being cycled through the game are accounted for, and sometimes your logs will need to be checked for certain games that require a lot of trading between multiple players.
★ Joining

To join the game, post a comment in the joining thread and use the form provided! Make sure to link your card post, and also choose one deck that you want to collect. A mod will reply to you with your starter pack, which contains eight cards, including two of the deck you requested. Add these cards to your card post and reply to that comment chain to get two additional cards and official membership to Colors TCG!
★ Signatures

Once you're officially set up and ready to play, you can request a signature! This isn't mandatory and can be done at any time, whenever you want to. A signature is a special card that has your name on it and whatever character or image you'd like - it's basically like a personal membership card! You can trade these with other players. However, you can only trade a signature for another signature, you can only trade your own, and you can't gift them to people - they must be exchanged in a one-for-one trade. My signature, as an example, is the one below! (Featuring Asmodeus from Iruma-kun <3)


To get your signature, request one in this thread and a mod will create it for you! Once your signature is done, you get to take three copies of it for free to start out with. When each monthly release comes out, you get another free copy. You can also claim copies whenever you want using the Art Shop or Art Studio (more on that later).
★ Portfolios

Portfolios are another part of the game that are not mandatory. You don't have to do them if you don't want to! A portfolio is a list of eight decks - either eight decks of the same color, or one of each color - that you get rewarded for once you've mastered each one. You can have one monochrome portfolio (all decks the same color) and one palette portfolio (one deck of each color) at the same time. You choose the list of decks yourself! For example, here are my current portfolios:




Here is the current portfolio request thread, with more information. When you complete a portfolio, turn it into the Mastery thread for your rewards!
★ Crayons

Crayons are a special currency that you can also get as rewards from games, masteries, and other sources! Crayons come in eight colors, just like cards - red, orange, yellow, green, blue, purple, brown, and gray.










Crayons are mostly used to trade for cards of your choice at the Art Shop, one of the TCG's service threads.
★ Art Shop

The Art Shop is used for two different things! The first thing you can do here is trade in your crayons for cards of your choice, including copies of your signatures. You can trade them in for a 1:1 trade of a character card of the same color, or trade in 2 crayons for a special card of the same colors. For your signature, it's once again a 1:1 trade of a crayon with the same color.

You can also turn in your Sketchpads here for rewards! Sketchpads are used to keep track of how many times you trade with other players; more on that in a bit.
★ Art Studio

TBA
★ Trading

TBA
★ Sketchpads

TBA
★ Games

The vast majority of cards in the TCG are given out as rewards for participating in games in the Dreamwidth community! There are all sorts of games, ranging from trivia and word searches to trading games and even some that give out cards for free! Most games run on a weekly basis, but there are some that run every two weeks, and even some that are longer, monthly challenges. Rewards are usually given out after the whole round is over, but there are some exceptions. There are a lot of different games, and each one has its rules displayed on each post, so I won't go over every single one. Here are some easy, low-effort games to keep your eye out for, though!

Most Wanted: Most Wanted is a weekly game that gives out cards for free. Everybody names one deck that they want to receive cards for. At the end of the week, everybody receives five random cards taken ONLY from the decks that have been named!

Pick a Color: A bi-weekly (every two weeks) game. Simply pick a color and receive a mystery prize!

Lady Luck Slots: A weekly game. Spin the slots provided, try to get a match, and post a screenshot of your results for a prize!

Host Club Giveaway: A bi-weekly game. Just comment and get some free cards, easy-peasy!

No Context Theater: A weekly game. Post a funny caption for the screenshot provided, and receive five new release cards from the past few months!

Booster Bundle: A weekly game. Choose whichever 'booster pack' you want for free cards at the end of the week!

Little Spell Academia: This one is the best! Every week, a word or phrase will be posted. You get to take any one card of your choice for each letter, as long as that letter is inside the card's name somewhere. So, if the weekly word is 'HOUSE', you get to take any five cards you want - one that has an H in it, one that has an O in it, one that has a U in it, etcetera. You can take cards from the same deck, too!

For some games that require 'correct answers' - like the trivia game, Rolling Down the UMN, or the word search, Reading Between the Lines - comments are screened. That means that nobody can see comments on the post until the round is over. The post will say that it has 0 comments on it, but if you comment and click on the post, you will still be able to see your own comment!
★ Pot of Gold

TBA
★ Activity Rewards

TBA
★ Donating a Deck

TBA
★ Recycled Art

TBA
★ Tips

Here are some general tips to help you out in your Colors journey!

- Always type out card names in all lower-case, as one word, and with a double digit number at the end! This makes things easier for other players and for the mods as well, since almost all Colors-related tools use this format for card names. For example:


You would write out this cardname as gorgonsnake06, NOT gorgonsnake6, gorgon snake06, Gorgonsnake06, etc.

When listing multiple cards, separate them with commas, and try to avoid putting 'and' between the last cards. Ex: "gorgonsnake06, please12, toytoy08" instead of "gorgonsnake06, please12, AND toytoy08". This saves time for people using automated tools to organize their cards!

- When trading with other players or donating cards to games in Dreamwidth comments, it's helpful to post the card names (formatted like above!) AND the card images as well! Example:


- There's a dedicated Discord server for Colors TCG! Everyone is very nice and willing to answer questions so don't feel nervous about asking! Sometimes you can also snipe trade deals in here too (eye_emoji).
★ Tools

TBA